compomix DI: dispensing system for composites processing
Perfect dispensing of epoxy and polyurethane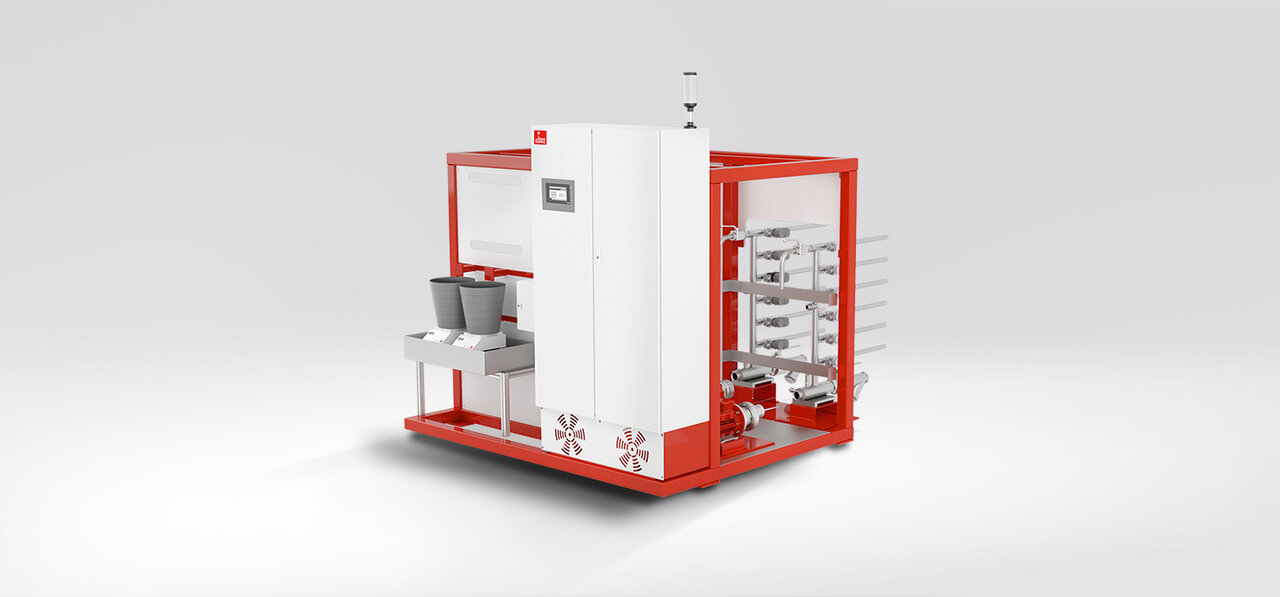 DOPAG developed the compomix DI specifically for use in infusion processes in the production of rotor blades for wind power generators. The metering and mixing system can be used for direct infusion process and with vacuum bag infu- sion process with Infusion-Stations located up to 70 m from the machine with a deviation of less than ± 1 % of the mixing ratio. Depending on the system configuration, magnetically-coupled, leakage-free pumps that are hermetically sealed at the drive end are used to feed hygroscopic hardeners. The metering system range for the processing of unfilled infusion resins combines highly accurate metering pumps with extremely fast control technology. Metering is carried out from a regulated by-pass so that the normal initial process of filling the mixing tube is avoided and the long distance between metering and mixing point does not impact the mixing ratio. In addition, the output rate can be changed during the meter- ing process at pre-defined levels – without exceeding the permitted tolerance limits of the metering ratio.
Up to 6 Infusion-Stations can be added, working sequentially with individual programs according to infusion point re- quirement. The Infusion-Stations come with customer developed electronic valve module for pressure regulation of A and B, mixing station and scale module suitable to place vacuum bags. Each Infusion-Station can be configured individ- ually in terms of intelligent adapted filling rate and shot size according to actual infusions process status.
Standard
2K system
Output rate 30 l/min and 60 l/min
Automatic ratio check with weighing scales
Control cabinet mounted onto a completely enclosed, mobile chassis
Metering pumps with overpressure protection
Metering pump of the B-component with magnetic coupling
Three-phase asynchronous motor
Control and regulation of mixing ratio by use ofhigh resolution volume counters
Multiple dosing line, suitable for up-to 6 Infusion-Stations
Feeding directly from IBC' ́s or loccal ring feeding line
Emergency backup of control parameters in case of a power failure
Standard Infusion-Station
2K system
Control cabinet
Electronically controlled valve modules
Mixing head
Scale module with suitable infubags
Distance to basic metering machine up to 70 m
Optional
Remote monitoring and analytics with production reports
Remote diagnostics
Cabinet cooling
Technical Specifications

Flow rate*

5 - 60 l/min (approx. 6 – 70 kg/min)

Mixing ratio

100:15 – 100:80, volumetric as per typical infusion resins

Material supply

Circular pipeline, original container, pressure vessels

Viscosity range

Material characteristics

Power supply

Max. air inlet pressure

Dimensions L × W × H

1350 × 1850 × 2100 mm (compomix)

Weight

*

* Depending on mixing ratio and viscosity
Infusion-Station
Mobile mixing station for infusion points
The Infusion-Station is the newly developed mixing station that can be placed at each infusion point along the rotor blade. These stations can be located up to 70 m distance from compomix DI with connection possible in both serial and parallel combination. With remote controls at each point, the Infusion-Stations fill up nylon bags that feed the mixed resin material to the blade. The intelligence at the Infusion-Station ensures that the material consumption at each point is limited to the requirement from the blade using a load cell.
Control panel with production relevant operations at each station
Specially customized electronic proportional valves for a quick switching time and highest accuracy
Up to 6 stations per compomix DI can be added as per customer requirement depending on the flowrate requirement at the infusion points
Static mixing system for easy maintenance
Adjustable height of the station to ensure optimal flow to the infusion point
Intelligent control unit linked to the integrated load cell
| Technical Specifications | |
| --- | --- |
| Power supply | 230 V |
| Air supply | 6 bar |
| Dimensions L × W × H | 1.000 × 800 × 2.000 mm |
| Weight | approx. 200 kg |